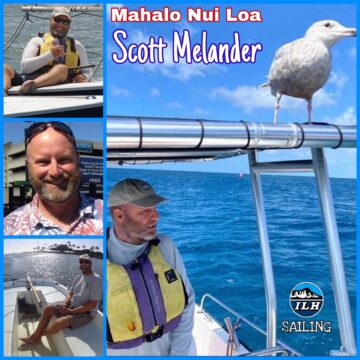 The Interscholastic League of Honolulu extends a "MAHALO NUI LOA" to Scott Melander, a longtime fixture in ILH Sailing and a mentor to thousands of student athletes who participated in the sport over the years.
Melander left the Hawaiian Islands after the recent conclusion of the 2020-2021 ILH Sailing Season and 27 years of service at the Hawaii Yacht Club. Melander, along with Guy Fleming of the Waikiki Yacht Club, were instrumental in working together with the ILH in the development of Sailing being recognized as an official ILH Sport in 2003.
Fleming shared a few highlights of Melander's contributions:
*Assisted with the development of Sailing being recognized as an ILH Sport in 2003
*Over 27 US Sailing Level I instructor courses
*Certified nearly 400 instructors
*From the nearly 400 instructors, 90 went on to be Level 2 instructors
*Many of these instructors are current or former ILH Sailing Coaches
*Co-founded the US Sailing-Hawaii Junior Olympics Festival reaching roughly 100 youth sailors per year.
ILH Sailing Coordinator Mike Schwab communicated the league's appreciation upon Melander's departure, "This is truly an end to an era… Scott will be missed dearly… and his service and contribution will leave a legacy we will not forget."